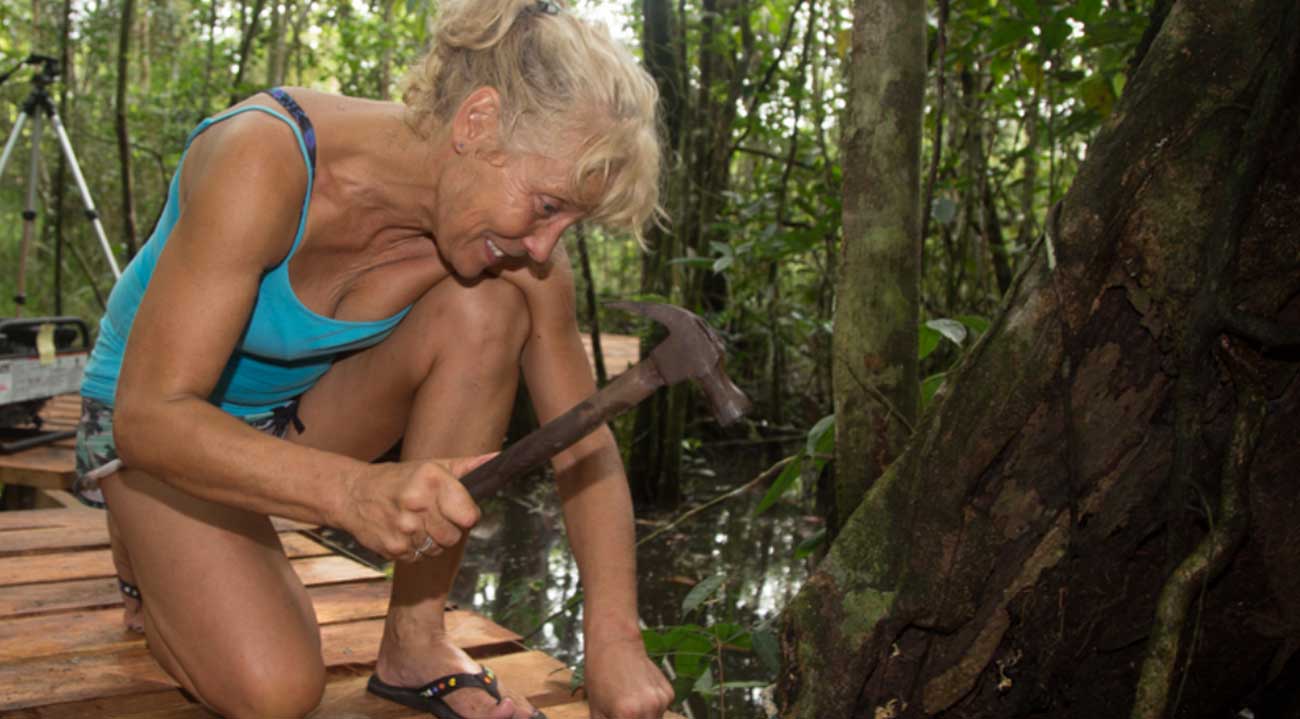 Ridge to Reef Individual Placement Program Allows Anyone to be a Conservationist
Ridge to Reef created the Individual Placement volunteer program for the traveler who is more interested in studying Belize's ecosystems than resorts, but needs more flexibility than Ridge to Reef's eight-week-long expedition. Individual Placement Volunteers can come for a period of time that fits their schedule, and have more personalization in terms of the activities they choose.
Alison Shepherd is the first Individual Placement Volunteer. She's getting quite used to personal firsts this year—in February, the 58-year-old completed the notoriously challenging Tough Mudder competition with her 26-year-old daughter. It's the same spirit that led her back to school to get her Masters in Wildlife Conservation and Ecology, and that which ultimately led her to Belize for Ridge to Reef.
During her four-week-long stay in Belize, Alison has become scuba certified, helped with important conservation research, become acquainted with some of the region's endangered species, and honed her machete skills. Read the interview with her here to learn more about her experience as an Individual Placement Volunteer on Ridge to Reef expedition.
What inspired you to come to Belize for Ridge to Reef?
I've always been interested in nature. It was a program in Africa, Walking with Lions, that inspired me to go back to school and focus on conservation work.
I came to Belize looking for field experience—survey and monitoring work to help with my courses. I like how Ridge to Reef focuses on marine as well as terrestrial research. I was quite drawn to the idea of learning to dive in warm water.
I wouldn't be here, though, if it weren't for (program director) Caz Oliver. She was so helpful and responsive any time I had a question.
What have your highlights been from the program thus far?
The vast amount of biodiversity here. The ocean, the savannah, and the forest
Using a machete on my first day, cutting down vines growing on newly planted trees
My scuba diving certificate! I've seen a turtle, manatees, nursing sharks, and loads of fish
Weekend trips to other parts of Belize.
Outdoor showers
Snorkeling and diving on the 2nd largest coral reef in the world
Underwater transects
Living at the ranger stations—the openness of it, and not having to worry about my hair or makeup
I like the way of life here—the people are so friendly and helpful
Getting to know locals, and meeting people from all around the world; hearing their various perspectives
Getting around by boat instead of by car
How is your experience of Ride to Reef different from the other expedition students at this stage in your life?
I have the benefit of all of my life experience with me. It gives me more grounding, a sense of realism about things. The expedition students all seem to have a little phobia about spiders or beetles or snakes. I've been around longer, and I think, "yea, it's fine. Doesn't matter."
I'm also more curious about the operational side of things than I would have been when I was younger. I keep asking questions about where the money comes from, how the logistics work. And I'm more interested in the people I meet. I've really been enjoying asking them questions and comparing our life experiences.
I think I have more to offer now, as well. I've done so many different things in my life, studied massage, health, and diet. I've been passing that off to people I've met here, introducing people to the natural products I use. I have so much knowledge about all sorts of things from my life experiences to share.
What will you miss most about Belize?
* The warmth, the hot sea
* The variations in habitats
* All the gorgeous trees and flowers
* The rangers—you can ask them about anything and they know the answers
* The company. Everyone is so friendly.
* I'll miss traveling by boat everywhere
* Terrific storms
* The ranger station on Abalone Caye
* The cold, outdoor shower at Private Lands nature preserve
* Going to bed and getting up early
* The variety—I've moved beds 17 times in 30 days!
* Fresh bread each day. And all the home-cooked meals
Thanks Alison! It's been great getting to know you these past four weeks!