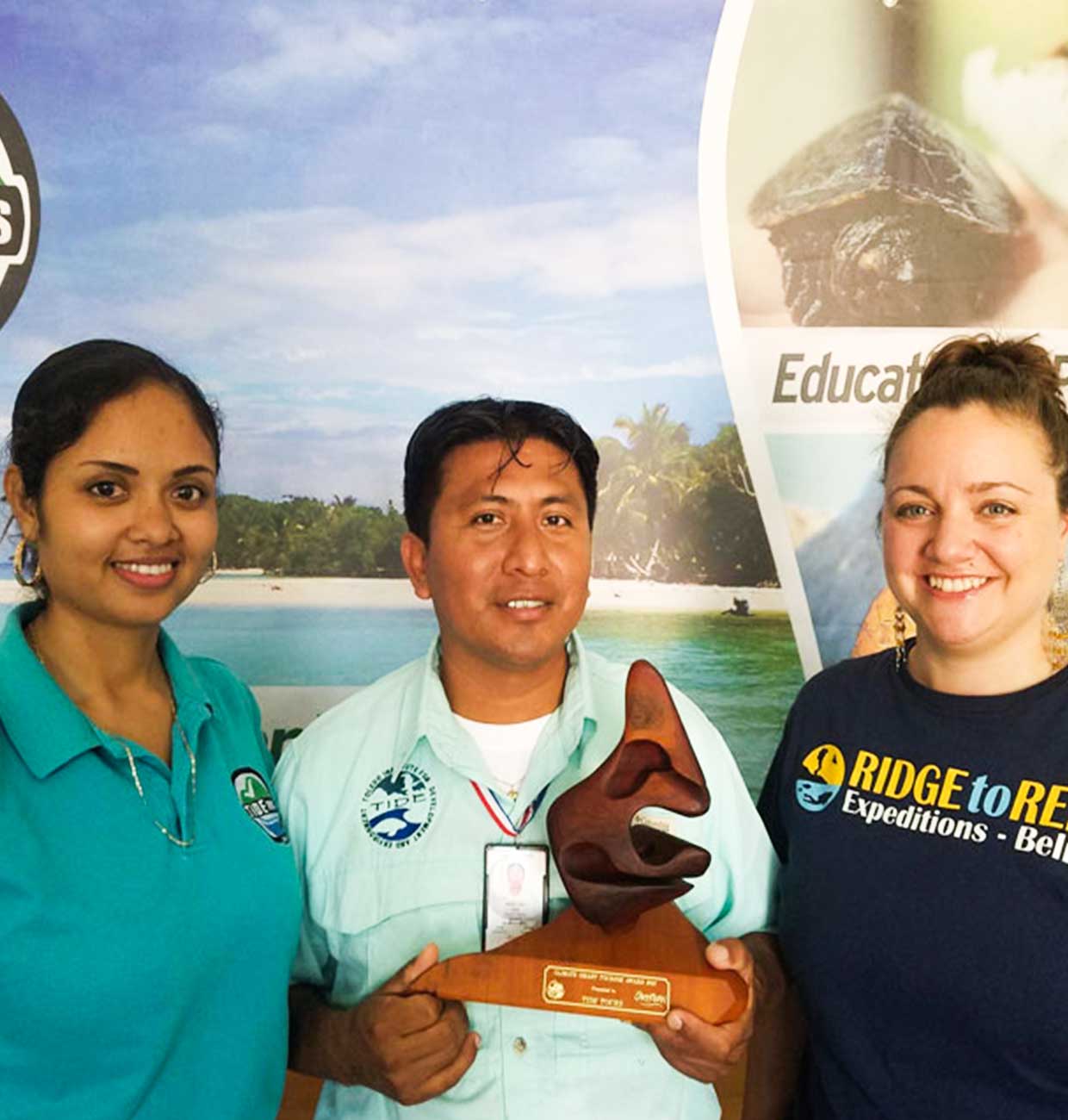 Winners of 2017 Caribbean Sustainable Tourism Award
TIDE Tours is proud to announce that we received a Caribbean Climate Smart Award at the 2017 Caribbean Sustainable Tourism Awards Program in St. Kitts and Nevis. 
The award was presented to recognize our continued commitment to reducing the impacts of climate change through our tourism activities.
The awards ceremony is hosted annually by the Caribbean Tourism Organization (CTO), and aims to identify and showcase Sustainable Tourism Good Practices in the Caribbean. We were shortlisted for the Community Benefit Award and Biodiversity Conservation Award from a total of 96 entrants, and were finally awarded the Climate Smart Award 2017, which was presented by Caribbean Development Bank (CDB). Mr. Eddie Herrera, from the Belize Ministry of Tourism, received the award on our behalf at the ceremony in December.
In particular, the award highlights our Ridge to Reef Expeditions (R2R) program. Launched in 2014, R2R is our educational program which connects students and travelers of all ages to TIDE's conservation and community work. Participants of the program contribute to climate change resilience strategies, including local reforestation projects, coral reef monitoring, raising local awareness of climate change, and habitat restoration programs, amongst other activities.
TIDE Tours has been a leading tour operator in Southern Belize since our inception in 1999, and we continue to strive to have a positive impact on the environment and communities in Toledo. Through employment, training, and by supporting local businesses through our tours, we provide alternatives to natural resource extraction and environmentally unsustainable practices. We also donate all of our tour proceeds to our parent organization, the Toledo Institute for Development and Environment (TIDE).
TIDE is a non-profit organization which co-manages 160,000 acres of land and sea-scape in Southern Belize, promoting sustainable resource use and implementing community development programs. TIDE has also received multiple international awards that recognize its pioneering, innovative conservation programs that engage community members in natural resource management.
Ms. Delonie Forman, TIDE Tours Manager, says "It is truly an honor to be recognized by the Caribbean Tourism Organization and Caribbean Development Bank for this award. We are excited about the year ahead, and to continue developing our Ridge to Reef program with more participants and greater benefits to the local community and environment."
If you have any questions or would like more information about the award or any of our programs, please contact Ms. Delonie Forman at (501) 722-2129, or info@tidetours.org.